Moodle Certified Partner Services to improve your LMS
So what services does a Premium Moodle Certified Partner provide? This post shares some of Catalyst IT's own services along with examples of how they have helped to optimise Moodle Learning Management System (LMS).
Catalyst IT services to support Moodle LMS
2021 finished on a high here at Catalyst IT, with our multi-region group of companies being recognised by Moodle as their '2021 Moodle Global Certified Service Provider of the Year'.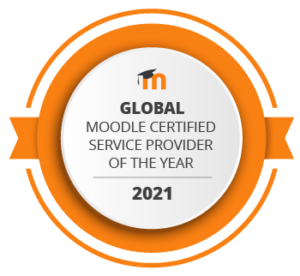 The team produced new innovations, improvements to existing functionality and performance, and bug fixes to address technical issues. The work delivered results for specific projects and clients. It also supported the global Moodle community.
Catalyst IT has provided Moodle Certified Partner services since 2004. During that time we have built and developed a team of technical experts that consists of MEC facilitators, e-learning consultants, cloud migration & infrastructure specialists, solutions architects and Moodle developers. Let's take a look at some of our services to give you some insight into what they deliver to our enterprise LMS clients.
Migration
There are two key elements to any Moodle cloud migration, creating a new Moodle instance in the cloud environment and copying the content from the old instance to the new one.
Moodle HQ provides some great documentation to help you manage your own application migration process. However, for organisations with large environments and complex integrations, that may also be multi-region or demand 24/7 access for users, the challenge is much greater. This is where the Catalyst IT Team can help. Check out the work done on the Navitas Project below.
Upgrade to Moodle latest version
Keeping up to date with Moodle's latest version helps you to ensure that you have access to all the latest features, improvements and security updates. Our migration process can easily incorporate an upgrade.
Moodle plugins and customisations
Moodle LMS was built to be optimised, extended and customised. The "M" in Moodle stands for "Modular." This is what gives you the power and freedom to make Moodle do anything you need.
More often than not, our clients have Moodle customisations and plugins that need to be managed and updated to operate in their new Cloud environment. Our custom software development team is on had to help, indeed we are the biggest partner contributor to Moodle Open Source Project.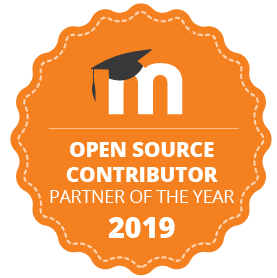 Moodle hosting and cloud managed services
Moodle HQ provides a range of low cost and low maintenance hosting plans, with up to 5 GB storage via 'MoodleCloud'. However, for those of you with Enterprise LMS requirements and a large online community of students and educators, we can help.
Catalyst IT hosting and managed services are provided on AWS Cloud infrastructure, optimised for Moodle LMS. We deliver a reliable, high availability service that scales effectively, and has good cost management disciplines. We take technical responsibility for your Moodle, to let you focus on your business and learning goals.
Systematic site maintenance
The Catalyst IT managed service provides systematic automation of routine maintenance, removing the dependency on single operators to perform tasks:
Patch Management – anticipate and remediate known vulnerabilities;
Regular backups – assurance that key information can be accessed following a cyber security incident;
Latest Moodle system updates – provides access to the most up-to-date functionality;
Load testing and load balancing – assesses business requirements to ensure sufficient capacity for growth and peak operational times (such as exams).
Support
Knowing you have help on hand when you need it most is paramount for large, enterprise LMS owners. Catalyst IT provides 24/7 Follow The Sun (FTS) support, utilising our multi-region presence. Support engineers are on call to respond to any support issues as they arise.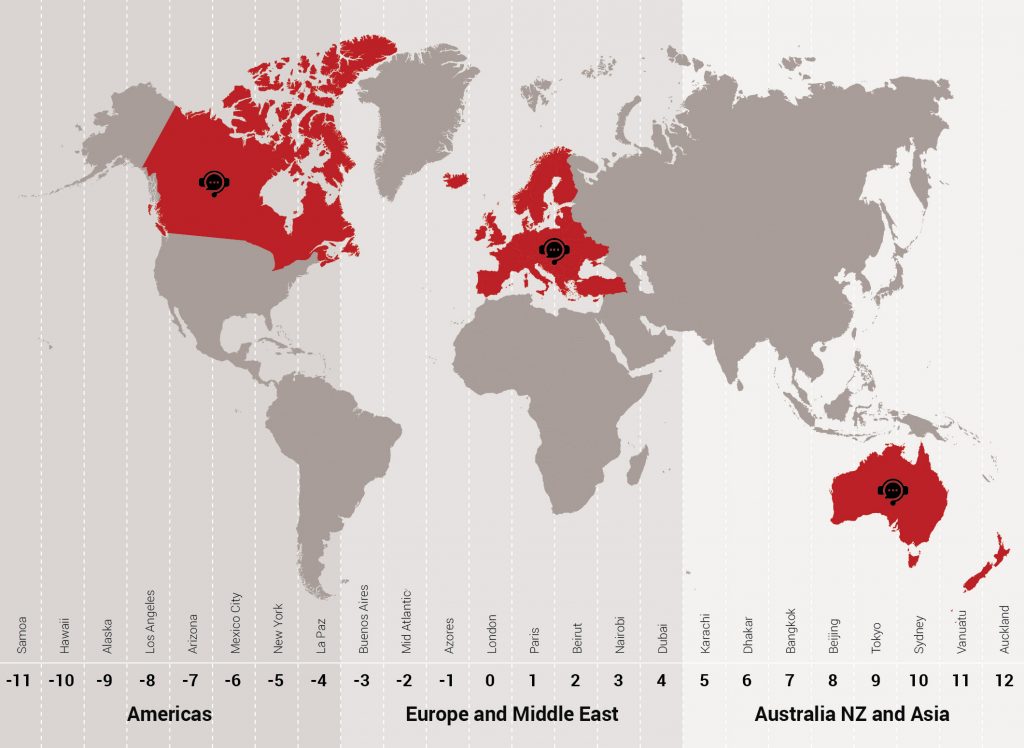 We pride ourselves on a personal service, where you interact with a real person, not a machine-automated response. Our clients have peace of mind that they have a robust platform with a global team on hand to support them.
Cost and performance optimisation
Cost and performance optimisation is at the heart of what we do. It's part of our day-to-day operations. You can discover how this works in practice by exploring this Moodle LMS optimisation blog:
Our up-to-the-minute CI/CD deployments enable our clients to to access Catalyst's optimised pipelines that continuously integrate and continuously deploy code changes – without downtime. We review your scaling policies, rightsizing your infrastructure to ensure that instance types and sizes are matched to your workload and capacity requirements – all at the lowest possible cost.
Explore our managed service case study to see how our managed service supports Monash University's enterprise Moodle:
Moodle integration
Having all your applications connected means that data from one system can be accessed by another one, to achieve streamlined communication across internal and external functions and audiences. Moreover, it supports the ability to build powerful analytics tools, such as CQUniversity's CQU Success:
Authentication and SSO
Automated provisioning of students and enrolments, as well as best practice Single sign-on (SSO), across your education application suites is the expectation for your student cohort. Not only that, it improves your application security and reduces technical debt for the IT Support Desk.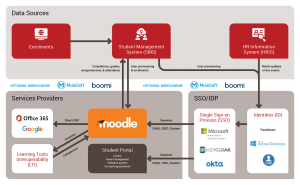 As a Moodle Certified Partner we have tried and tested knowledge of the architectural principals required to integrate Moodle with your other core applications. Whether it's with your SIS or your HRIS we can provide surety of an effective and timely project outcome.
E-learning consulting and training
Moodle resources
Moodle Academy provides educators, LMS administrators, designers and developers with a self-paced accessible way to develop your skills using Moodle. For the more advanced educators among you, there is also the Moodle Educator Certificate (MEC), which is a more formal certification program that allows you to develop and demonstrate your digital competencies. You can find out more about MEC delivered by certified Catalyst IT facilitators via the button below.
E-learning support tailored for you
While we do recommend that you leverage the valuable resources provided by Moodle, our own dedicated services give you access to expert Moodle skills and knowledge that can help you achieve your goals quickly and effectively. You can develop your own technical capabilities to make the most of your Moodle.
The Catalyst Team works with enterprise clients day-in-day-out, we understand what it takes to deliver successful outcomes for educators, administrators and their students.
LMS strategic consulting
If you have a challenge or project that you're not sure how to approach, the chances are a Moodle Certified Partner will have encountered it before. By engaging our Moodle consultancy service, you will be able to leverage our experiences and benefit from our learnings.
Moodle security
Cyber resilience is a business priority for all of us, it enables digital transformation. Here at Catalyst IT, we understand how reliant you are on delivering an LMS service that is robust and trusted.
Catalyst IT is ISO 27001 certified (a global standard that supports information security management); we are focused on developing solutions and services that protect the operations and digital assets of our clients and you have the assurance that your data is being managed professionally and responsibly.
Moodle Certified Partner Services with Catalyst IT
Do you want to accelerate the improvement of your Moodle performance to achieve your learning goals and meet service delivery requirements? Reach out to the Catalyst team of Moodle experts today.