Moodle integration – engineering success
If your organisation is planning to adopt an enterprise learning management system (LMS), like Moodle, a primary consideration should be your integration needs. Upfront investment will improve workflows, enhance UX and reduce technical debt.
As Catalyst is a Premium Moodle Certified Partner, we obviously specialise in Moodle architecture, custom development, deployment, and integration services etc. Having been involved in many system integration projects, we've seen what good looks like: customised solutions that seamlessly interoperate with our clients' other on premise and cloud-based technologies. We know from experience that this doesn't happen easily, it involves careful planning planning, project management, development and engineering.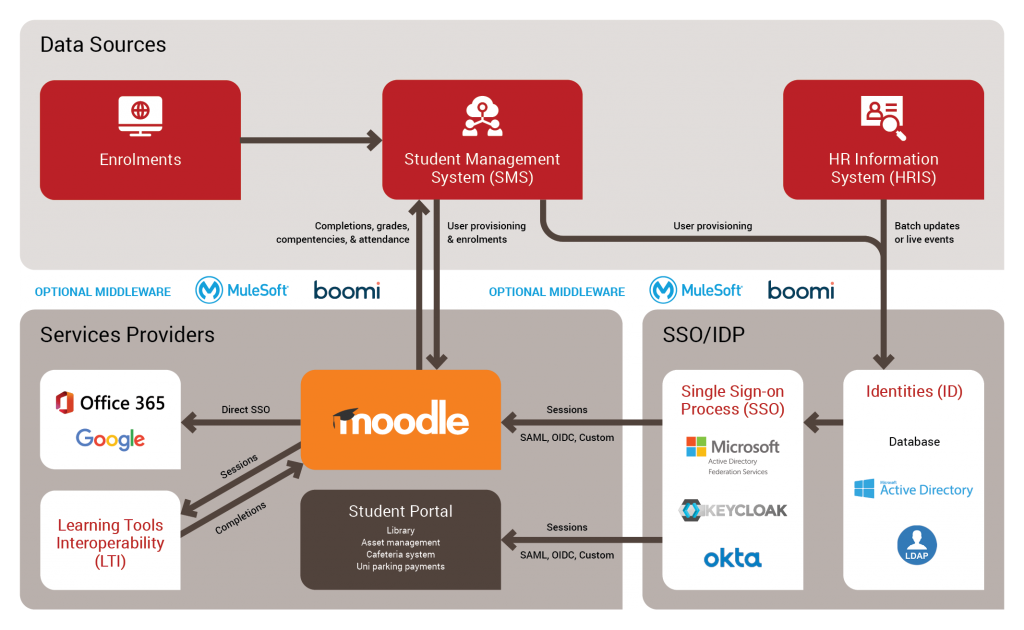 At the other end of the scale, we've seen many LMS solutions that, in effect, are deployed as standalone systems. They require system administrators to manage identities and access, scheduling, inter-student collaboration services and content management – all as separate capabilities. The setup and ongoing management overheads of this kind of standalone deployment are onerous for large and small organisations alike.
System integration options
Out-of-the-box
Moodle can integrate with many enterprise solutions architecture capabilities right out-of-the-box. It's not always obvious, but with knowledge of how Moodle works, you can make it synchronise with your Active Directory, provide authentication services on premise or via the cloud, and even onboard new students using scheduled tasks that provision each with the appropriate classroom resources, collaboration tools access and schedules.
Moodle certified integrations
Moodle Certified Integrations are the first step in broadening your LMS architecture. For example, BigBlueButton, the open source web conferencing solution is a resource that teachers can use for running live, synchronous classes. BigBlueButton provides all the core capabilities of Microsoft Teams and Zoom. Moreover, as an open source certified Moodle Integration, it can customised into a solution to fit your own organisation's collaboration requirements, even if the requirements are somewhat non-standard.
Other certified integrations, such as Intelliboard, can help you visualise and manipulate your learning data, while Poodll offers language teachers a set of tools to help create dynamic courses that integrate seamlessly with Moodle. Poodll's language learning solution removes the need for off-site supplemental subscriptions and integrates reading, speaking and listening into the Moodle platform.
Custom integrations
While out-of-the-box Moodle integrations and the officially certified set of external plugins can be incredibly helpful and convenient, understanding the extensibility of Moodle as a base development platform can help you realise your investment's full potential.
The power of customised applications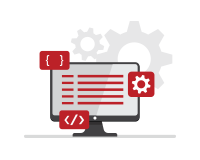 The real power of Moodle becomes apparent when you consider it in the context of how your want to operate your organisation. Engaging with an experienced Moodle partner, can help you to envision the big picture for your environment. When you have access to in-house architecture, infrastructure, and software development skills you have the freedom to develop your LMS to fit with your processes and business goals.
Moodle can become the core capability at the heart of your education entity's enterprise solutions architecture. It can join up all aspects of the student lifecycle, from marketing and presales to payments and student onboarding, all the way through to graduation and alumni management.
Most schools and universities use separate systems for the different stages of the student lifecycle. However, Moodle's open source heritage makes it possible to re-imagine your organisation's operating model, one that is supported entirely by a robust, flexible and highly extensible enterprise platform.

Moodle case study
A prime example of how Catalyst's integration architecture focus helps create a new business capability for clients, was our work with La Trobe University (LTU). As a Moodle Managed Services Provider (MSP) we assumed management of LTU's LMS. It was migrated to Amazon Web Services (AWS) as part of its wider digital transformation program.

LTU's Moodle migration to AWS helped boost its availability above 99% with a 23% improvement in response times. With the LMS  becoming stable and reliable, LTU could then redesign how the platform served as its core digital content repository.
The Catalyst Team worked with LTU staff to integrate digital resource management to their online course content, with a tailored Drupal content management system (CMS) woven into the Moodle and Canvas architecture. The solution leveraged AWS' Transcode and Elastic search services. Content upload forms incorporated mandatory metadata tagging, such as copyright.
Over the following two years the resultant solution, called LTU's Digital Object Repository with Integrated Services (DORIS), served over 15 million video items to students. From a workflow perspective, teachers can now create video content on their smartphones, upload to DORIS and share directly to their students.
Secure integration
A foundational element of integration architectures relates to information security. When you bring together previously disconnected solutions, crossing on premise and cloud services boundaries, it's easy to overlook security in your pursuit of interoperability.
Catalyst's approach to all aspects of architecture and engineering solutions incorporates security at every stage. By coordinating and making consistent security integrations across your enterprise LMS solution, with single sign-on (SSO), multi-factor authentication (MFA) and consistent authorisations, you can maintain adherence to your security policy.  This provides peace of mind that what you protect in your core architecture remains protected in all integrated capabilities.
Ongoing maintenance across the enterprise should encompass security, as patching of core and integrated solution elements is vital. Building security into the Continuous Integration and Continuous Deployment (CI/CD) pipeline, ensures that every release, be it a patch or a major solution enhancement, remains secure.
Goodbye silos, hello interoperability
Integration is one of the most important aspects of designing an LMS solution, as without it you can't realise the full potential of your technology investment, or the full potential of your business capability. Done well, integration will streamline processes, improve productivity, vastly improve the student experience, and ultimately provide you with a competitive advantage.
Moodle integration services
Are you looking for proven Moodle integration services that can help you realise your goals, quickly and effectively?
Premium Moodle Certified Partner
Leverage Catalyst's in-depth knowledge and experience of delivering enterprise-level Moodle integrations.  We take care of the technical pain, allowing you to focus on your learning outcomes and goals.