The Humanitarian Leadership's Academy's (the Academy) mission is to enable people around the world to prepare for and respond to crises, acting quickly and effectively together to strengthen resilience and save lives.
Working within the humanitarian sector and in harmony with the technology, private and educational sector, the Academy helps train developing communities and individuals to become more resilient in the face of disasters and crises.
Humanitarian Leadership Academy's core focus is to ensure communities are capable of dealing with disasters and responding to crises when they happen – meaning they don't have to wait for expertise and aid from other countries to mitigate casualties and catalyse recovery.
The reason for this is simple: when a disaster strikes, more people die waiting for help to arrive.
Unfortunately, small organisations and communities can't always afford the vital training needed to promptly respond to a crisis, so the Academy's challenge was to increase the reach of potentially life-saving training and make it accessible and relevant to as wide an audience as possible.
The Academy carries out its mission bu ensuring the local communities have access to the life-saving skills they need to prepare for, respond and recover from an emergency.
To host, deliver and manage vital skills and knowledge they entrusted Totara Learn and Catalyst to launch Kaya, a global learning platform delivering training on topics ranging from, (but not limited to):
Humanitarian principles, practices and standards
International humanitarian Law
Disaster risk reduction and management
Safety and security
Food security and nutrition
Water, sanitation and hygiene
Project management
Catalyst IT has an excellent and deep understanding of our end users. They explained that Totara's open-source LMS, thanks to it's ability to scale and be easily customised, would be ideal for our needs.
The Solution: developing an adaptable LMS
Due to the impressive intended scale, reach and versatility, the Kaya platform had complex front end, functional and technical requirements.
In order to deliver this model, they needed a digital element for a global programme operating at scale. After going out to tender, Catalyst was successful.
Catalyst's infrastructure team needed to ensure the bandwidth and download sizes were appropriate and that content was mobile-friendly; poor network connectivity and accessibility is a major issue for humanitarians in zones in the throes of crisis.
The main Totara Learn features and functionality used by Humanitarian Leadership Academy are:
SCORM pacakges
Videos and documents
Quizzes
Forums
Seminars
Assignments and workshops
Customised certificates
Feedback forms
Reporting
Customised dashboards and themes
Audiences
Organisation and position hierarchies
Certification programmes
Multi-language support: English, French, Spanish and Arabic with plans to add more in future.
Single sign-on: Organisational partners can allow their staff to access Kaya with the same credentials they use for other IT systems.
Kaya Mobile: an app available on iOS and Android that allows learners to access all of the online courses that they have joined via their smartphone or tablet, so that they can continue to learn wherever they are – even without an internet connection.
Catalyst also implemented its innovative global content delivery network (CDN) to ensure the LMS was accessible from anywhere in the world. This way Humanitarian workers in the Philippines or Kenya don't need to pull content from servers in Ireland – a frustratingly slow and inefficient process. Instead, the content is mirrored in a closer location. this affords geographically dispersed learners faster access to life-saving training.
Digital badges have also enabled Kaya to provide its global network of humanitarians with a recognisable way to collate and demonstrate skills and knowledge. These badges, often awarded for flagship courses, are displayed and shared with other humanitarians via a 'humanitarian passport' on the Academy's complimentary accreditation platform, HPass.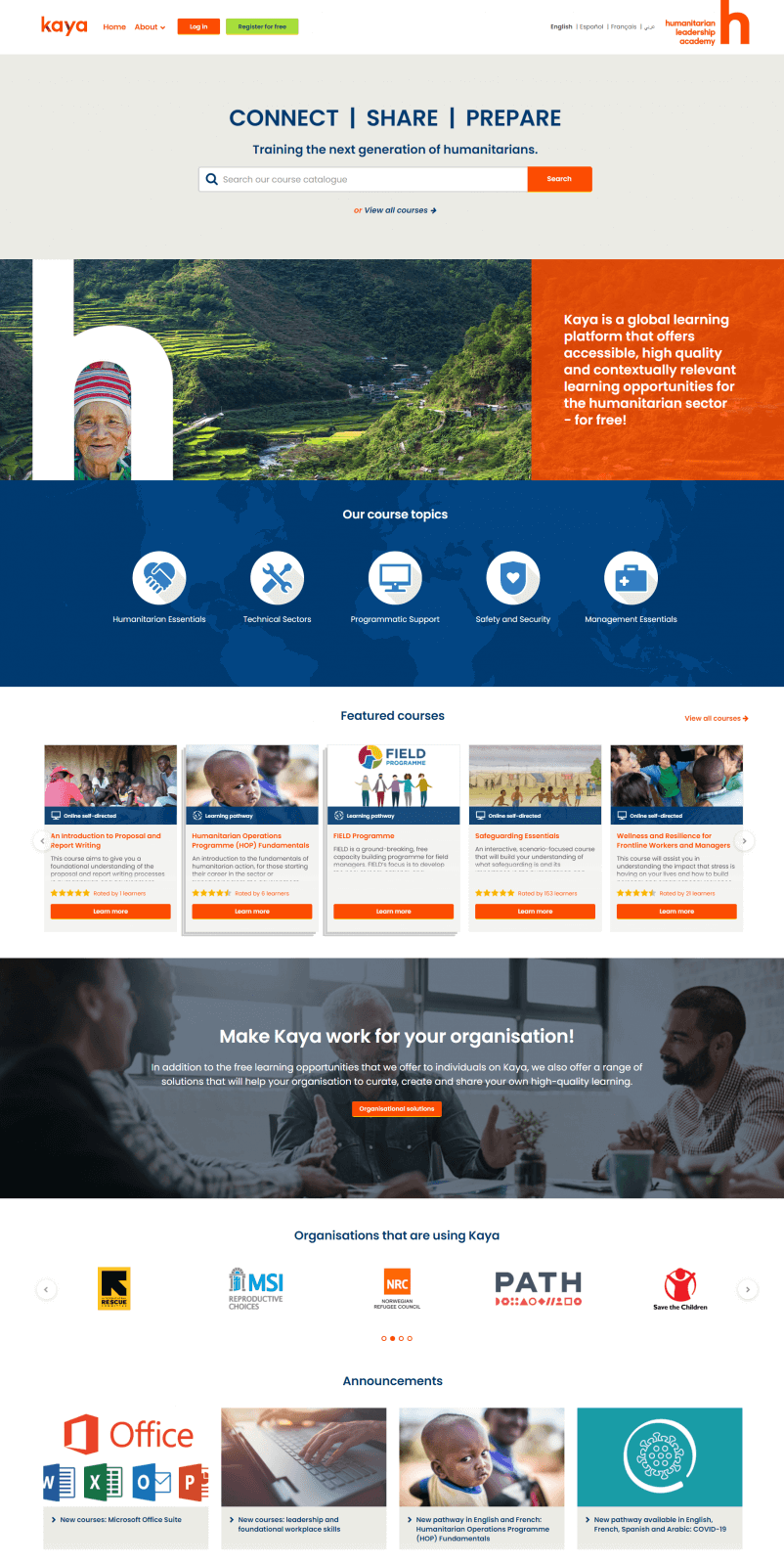 The Results: Life-saving training delivered to those who need it, when they need it
Currently boasting over 300,000 users, Kaya is now experiencing exponential growth and success in accomplishing it's mission to save lives with learning.
A humanitarian organisation called 'One Love' had been using Kaya's online courses to educate and connect humanitarian volunteers in Jerash Palestinian refugee camp in Jordan.
Most recently during the outbreak of Covid-19, Kaya was able to empower and help local humanitarians around the world by equipping them with the knowledge and practices required to respond to the global Covid-19 pandemic.
The philanthropic platform offers more than 500 free courses (in 12 different languages, across 190 countries) that help humanitarians progress in their careers, hone their technical skills and ultimately save more lives across the world.
Topics span from humanitarian essentials to more technical and pragmatic areas in multiple formats, such as,
Online self-directed courses and pathways
MOOCs (Massive Open Online Courses)
Webinars
Face to face workshops and blended learning
Videos. documents and resources
Games, quizzes and assessments
Immersive learning/virtual reality
What's next?
In the future, the HLA will focus on fostering a global learning marketplace through Kaya and increasing learner engagement.
With an array of existing and potential content available across the world, the Academy plans to open up Kaya and encourage indiivdual users and organisational partners to directly contribute content to the platform. With Kaya providing the tools, resources and support, humanitarians will be able to author their own high0quality content and share learning peer to peer and from the grassroots up.
The data shows that a lot of our learners are from fragile states in crisis, such as Iraq, Yemen, Nigeria and Syria. It really does evidence the impact that we're having. We provide learning opportunities to people who otherwise couldn't access them.