Koha latest version 21.05
The Koha library software team at Catalyst IT is delighted to share the Koha latest version 21.05. This major release contains 703 changes: 6 new features, 248 enhancements to existing features plus 449 bug and security fixes. The sixteen new system preferences give librarians and library staff further freedom to customise the behaviour of their Koha site. Let's explore the new features and enhancements in this blog post. 
Koha Library System – new features and enhancements
Library Catalogue – automatically link authority records to bibliographic records
The new cataloguing feature includes a button to automatically link authority records to bibliographic records.

This is a cool feature for linking authorities to bibliographic records while cataloguing. There is now a button to automatically link authorities, that checks all controlled fields in the MARC record and searches existing authority records to create links. Plus, if you have the AutoCreateAuthorities and BiblioAddsAuthorities system preferences enabled, you can automatically create new authorities and link them to your record using the new button.
MARC data support – default sequence of subfields in cataloguing and item editor
This enhancement, the default sequence of subfields in cataloguing and item editor, means the subfields for a MARC tag can be rearranged.

This functionality allows librarians and library staff to customise the default order that subfields appear in when cataloguing bibliographic records, authority records, and items. When editing subfields in Koha administration, a user can drag the subfield tabs around to represent the order they should appear in the editor.
Architecture – renaming of system preferences
A selection of system preferences have been renamed to better describe how they are use. It also enables them to be read correctly by a screen reader. Some of the changed system preferences are:
gist –> TaxRates
delimiter –> CSVDelimiter
reviewson –> OPACComments
opaclanguages –> OPACLanguages
These enhancements are especially exciting because they were written by some of the high school students who participated in Catalyst New Zealand's "Catalyst Academy 2021".
Circulation – transfer to send report
This new circulation feature adds a 'Transfers to send' report, which indicates an item in a rotating collection is ready for transfer.

The new 'Transfers to send' report parallels the 'Transfers to receive' report. It displays items that are set to transfer but not yet in transit, for example items included in a stock rota check, or items in a rotating collection. The report will show the reason for transfer and whether it is available on the shelf to be transferred or if it's currently checked out.
Authentication
Libraries can now enable Shibboleth to work as the only single sign-on (SSO) authentication method available, using system preferences OPACShibOnly and staffShibOnly.
When both OPACShibOnly and the OpacPublic system preference are enabled, this will result in a seamless SSO, where the user will be logged into Koha automatically if they are already logged in on their domain.
Circulation – printing of a patron check-in slip
A button has been added to the Koha check-in module to print a slip describing the patron's check-ins for the day.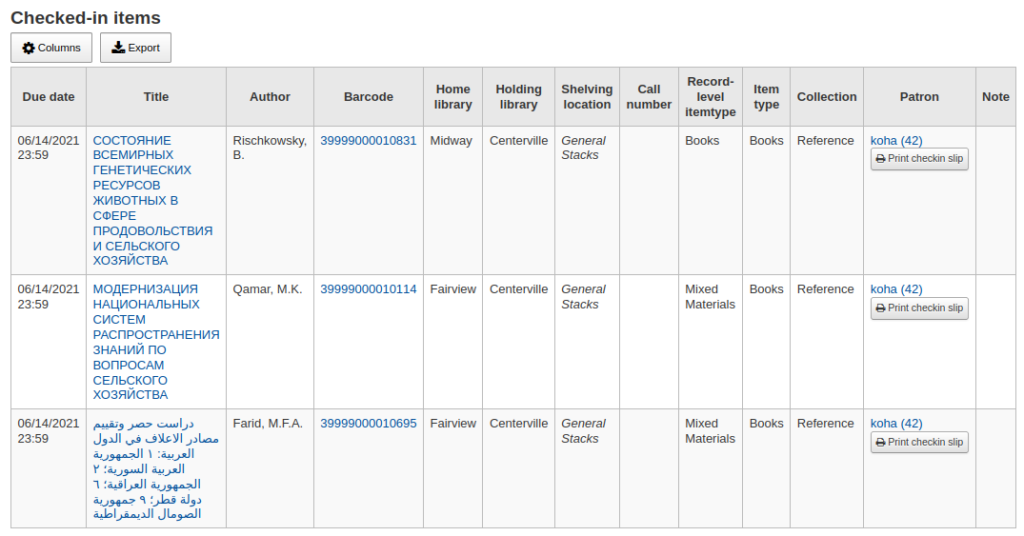 This feature allows the library to print a check-in slip containing information about all the items a patron has checked in that day. Previously, the only way to print a patron's check-ins was to go to their circulation history and export it. This feature provides the ability to get a patron's check-ins information for the day from the Koha check-in module in the staff client. It uses a new notice template with the letter code CHECKINSLIP, so can be customised and translated.
Circulation – automatic check-in at end of circulation period
Libraries with materials like Museum Passes required a way for those materials to be automatically checked in from a patron's account on the due date. For example, when a library checks out a Museum Pass to a patron, it is not a physical item that needs to be returned, but the patron should only have access to the Pass for a specified period of time, or a 'loan period'. Thanks to this enhancement, libraries no longer need to manually check these in, they can now configure specific item types to be automatically checked in when the new automatic_checkin.pl cronjob is enabled.
Fines and fees – displays the time a fine is collected or written off
Fee receipts now show the time they were last updated:

This enhancement updates the transactions information displayed in Koha. Fines, fees, and payments can be changed after they are created, such as when they are written off, or voided. The current 'Date' field in the accounts tables has been renamed 'Created', and a new column 'Updated' has been added, to display the last updated timestamp of the transaction. These changes can be seen both on the patron's account and in Fees Notices.
Holds – option to set a default expiry date when hold is placed
New system preferences have been added to allow the default setting of hold expiration dates:

Previously, Koha didn't automatically set expiration dates for holds so this means they could live in the system forever. This enhancement adds new system preferences to control the setting of a default elapsed expiry date for holds when they are placed. For example, your library could configure holds to expire automatically after ten days, or even 10 years.
Notices – option to send notices from owning library instead of issuing library
Sometimes an item is found or checked out by a patron at a library that is not the item's home library. Because of this, the advance_notice.pl and overdue_notice.pl cronjobs can be configured to specify whether the notice should be sent to the patron from the library owning the item, rather than the library issuing the loan.
OPAC – shows item-level hold details for patrons when logged into their accounts
OPAC holds now display whether holds are item-level or record-level:

When a patron used to view the holds they'd placed on the OPAC, Koha wouldn't indicate if they had requested a specific item or the next available item. With this enhancement, patrons are now able to see whether their hold is item-level or record-level. This is useful in a situation where the patron made an error when placing the hold.
OPAC – filter to the OPAC checkout history
OPAC checkout history now has useful functions and a search filter: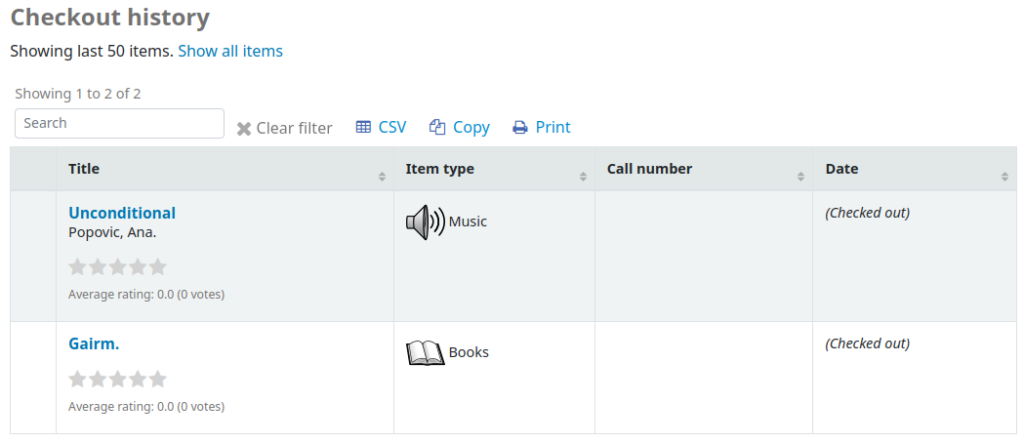 This enhancement makes the OPAC checkout history more flexible and helpful and powerful by adding a search filter and various functions such as exporting the table in CSV format, copying the rows of the table, and printing the table.
Reports – option to preview SQL from list of saved reports
SQL reports can now be previewed: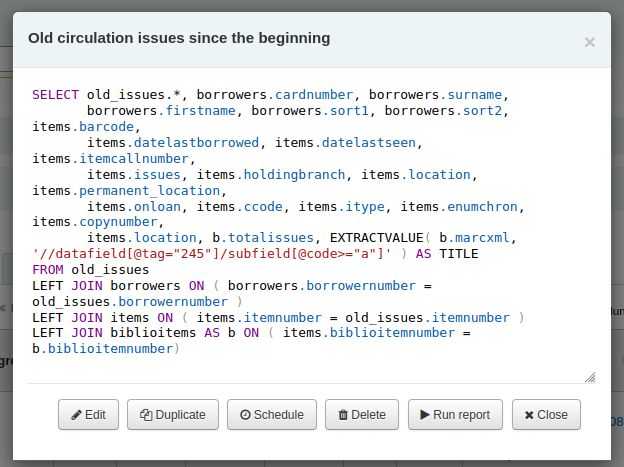 Being able to see the SQL code of a saved report without needing to execute or edit the report is helpful, because it saves time! This enhancement adds a button to the Actions dropdown for each report to preview it's SQL code. From within the preview, a user can then Edit, Duplicate, Schedule, Delete, and Run the report.
Reports – option for 'list' parameter in reports
This enhancement adds a new option for taking input in reports:

You can now specify an input as a 'list', for example "<<Biblionumber|list>>", which allows the input of a newline-separated list of values. The user will be able to input their values when executing the report.
Accessibility
Work has continued in an effort to make Koha more accessible:
Title elements (the text visible on the browser tab) on the OPAC and staff client now start with the most unique information first
The structure of headings on the OPAC has improved and headings are now more descriptive
Breadcrumbs on the staff interface now show the most unique information first
The OPAC has improved labelling to make it more accessible to people using screen readers
Koha Library System support
You can read more about the Koha latest release features, enhancements and security and bug fixes on the Koha Community Website.  Alternatively, If you'd like to discuss technical support for your Koha Library Software, contact the team at Catalyst IT.