Edtech LMS – exploring Moodle 3.9
What is Moodle LMS?
The Moodle Learning Management System (LMS) is a world leading educational technology solution for the education sector. It enables universities and schools to deliver flexible learning options to students in remote locations, without interruption to their courses and curriculums. This blog post explores what's new in the latest version, Moodle 3.9.
Why LMS innovation is important
2020 was the year that mass online learning and work from home practices changed long-standing operating models in Australian universities.
The question for most university leaders is whether 2021 will revert to business as usual, or whether there will be an evolution into a much more blended and permanent model. The Moodle LMS supports the digital transformation of how learning is delivered.
What's in Moodle 3.9 learning technology software
The latest version of Moodle LMS focuses on the open source platform's accessibility, interactivity and user experience (UX). This includes enhanced interactive content with H5P functionality, better search and filter controls, and streamlined activity management. Given what unfolded through 2020, the arrival of these developments is very timely.
So, how does Moodle 3.9 support eLearning professionals deliver an improved learning experience?

New Moodle 3.9 features

Accessibility and Search

Moodle conducted an accessibility survey among teachers, students and system administrators when they developed this update. This helped them prioritise issues that needed to be addressed and resulted in changes to search function capabilities as well as several navigation panels, including a new look Activity Chooser.
Activity Chooser

Prior to Moodle 3.9, the Activity Chooser was simply a list of activities. It did work, but it was time consuming and involved much scrolling activity. User navigation has improved significantly, with built-in categories and the ability to set custom filters.

While you can view all activities and resources in the course builder, you can now bookmark useful apps with the Star button. Starred activities show up in their own tab for convenient access.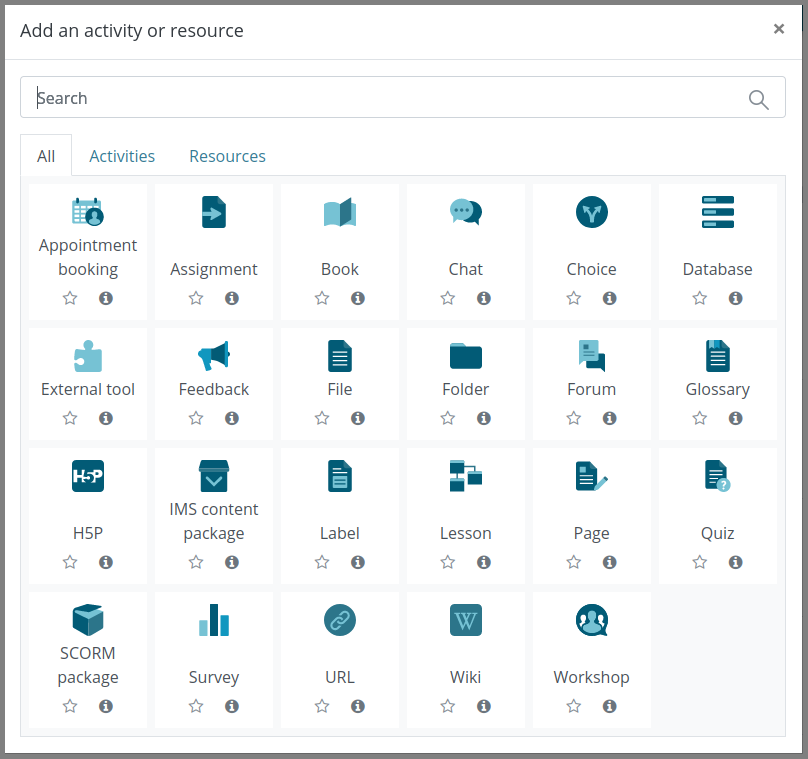 Activities and resources also have their own sections; activities tend to ask learners to undertake a task and may score them on their input, while a resource provides more passive or informational learning for example, an eBook.
The 'Recommended' tab allows teachers and course creators to go into a course and suggest activities to other users; this is a very helpful function for learning and development teams.

Course Copy

This feature allows course creators to quickly copy an entire course, rather than going through the usual backup and restore process.
Navigate to the course and category management tab, and select the copy icon next to the course you want to duplicate. The LMS will then ask you to rename the course, assign it a category, and set visibility.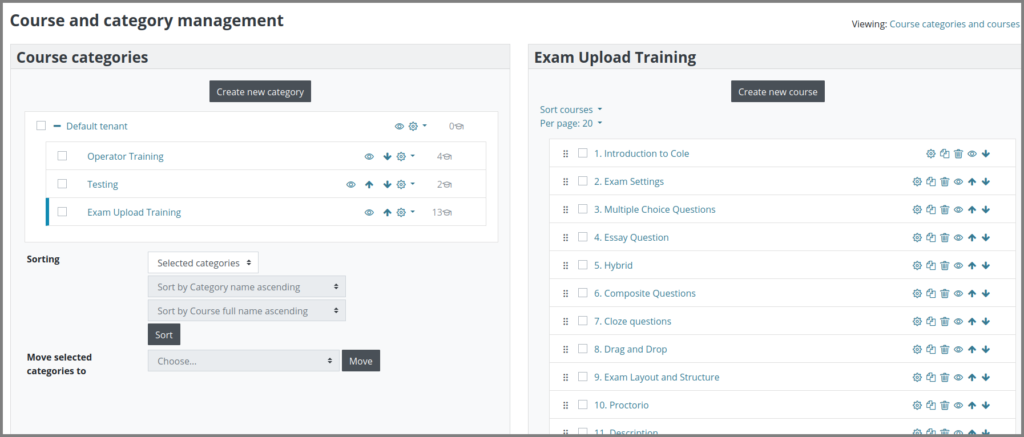 Activity Completion

The improved Activity Completion function means that activities can unlock based on the completion of prior activities. This was possible in previous versions, however, editing the structure of courses meant losing completion and unlocking settings—which was frustrating.
It is now easy to monitor how learners are progressing through a course, and ensure that each activity is completed, in the correct order. This is very helpful for formal learning situations, such as students that may need to progress sequentially through information to fulfil regulatory compliance obligations.

Search and Filter

New filtering functions make it easier to search through large student groups and identify learner categories. Extra filter types allows you to add multiple conditions to a filter set, for specific categorisation purposes.
According to Moodle, the search results now load faster, as the search page has been upgrade

Book Navigation

A small gem of an update comes in the form of clear directional arrows in book resources. This helps to improve engagement by removing the frustration of searching for navigation options when trying to progress through content.

Safe Exam Browser

The safe exam browser supports blocking selected websites, as well as specific functions (for example, copy and paste) when students are undertaking certain activities. This can be very helpful when trying to establish exam conditions in high stakes testing.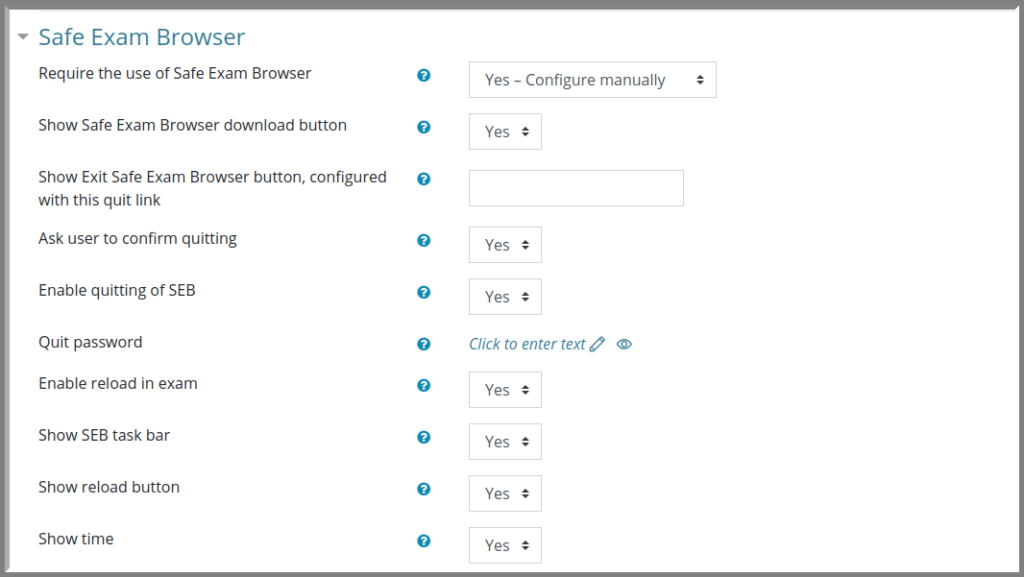 By using the drop-down menu, you can simply choose which options you do or don't want students to have access to. These include whether learners can reload the exam page, see the time remaining, use spell check, and enable audio, among others.
H5P

H5P (HTML5 Package) is a tool that allows you to easily and quickly create rich interactive content on a web page. By using H5P, you can quickly turn top-down learning resources into interactive, engaging activities such as quizzes.
By making content interactive, H5P supports the usability and the likelihood that materials will be shared – meaning students are more likely to be engaged. For educators and course creators, using H5P's interface means you don't need to deal directly with HTML5, the underlying code used to build interactive content.
Content can be built on the H5P website, or directly through the Moodle platform.
Are you looking for support to upgrade your Moodle LMS? Reach out to our team of Moodle experts
Using H5P in Moodle 3.9

Content libraries are new to Moodle 3.9, which affects how course creators use H5P. As you build (or upload) interactive activities, they are stored in the content library for future use. This provides a more efficient way to draw upon previous efforts when developing your next course.

To insert H5P content into a course outline, navigate to the H5P icon in Activity Chooser. Fill out the descriptor tabs, then insert your H5P content, either by uploading directly into the course or by clicking the page icon (file picker) under the section, Package File (NB: there is also a link in the side menu).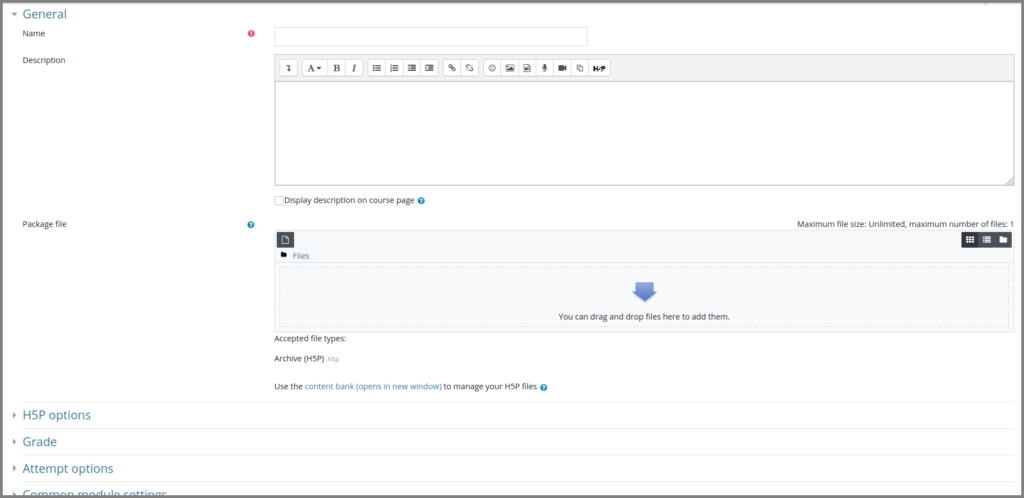 Here, you should find linked folders containing resources, as well as your content library. When selecting the H5P activity, remember to check the box titled 'create an alias/shortcut' rather than making a copy of the original file. This ensures that all instances of the activity are updated along with the original file, helping maintain a consistent user experience.

If there are scored components to an H5P activity, then rules and scoring can be chosen via the activity page. You can also set activity completion rules there, determining the criteria for students to pass or fail an activity.
Moodle LMS developments through 2021
There is no doubt that Moodle 3.9 has the ability to present content that helps align with user expectations. The accessibility updates greatly improve the user experience for both students and teachers, which improves learning engagement.
With the integration of H5P, content now has the benefit of looking professional. By improving interactivity, students can also become more active participants rather than passive learners, which will ultimately improve retention.
What Moodle version are you using?

To find out what Moodle version your organisation is currently running, navigate to: Site Administration > Notifications. You will also find any outstanding updates notified there.

Get services for your Moodle from a Premium Moodle Partner
If you are looking for IT services to support your Moodle, our services include implementation, upgrade, or managed services. Reach out to the Catalyst team of certified experts; we are Premium Moodle Partners with global coverage and many years of experience supporting enterprise level clients.