Six Reasons to Feel Secure with Catalyst Managed Service
The recent Optus data breach is an important reminder that taking data protection very seriously is no longer a better way but the only way for businesses.
Unfortunately, such reminders often come at a very high cost, not only in terms of the amount of data being compromised, but the costs of time, money and emotion associated with disruption and recovery for the individuals and businesses involved.
Even more unfortunate is the fact that no one is 100% protected at all times and these incidents, at a smaller or larger scale, will continue to happen in our now highly tech driven world.
The only way to reduce the risk of being affected by the various hacking techniques is to take a multi-layered approach to your IT security system.
Having worked with enterprise level and Government organisations globally over the last 25 years, security of data is a top priority at Catalyst. We go beyond the regular compliance requirements where possible and our 24/7 Follow the Sun Support model allows to deal with emergencies quickly and efficiently.
Being certified and premium partner with our vendors and having a dedicated security team in-house also provides our team and our clients with a peace of mind.
In the recent Moodle Security Vulnerability for example, not only were we one of the first parties to be notified of the issue, but our clients had an extra layer of protection built into our hosting infrastructure, that shielded Moodle sites from malicious requests attempting to exploit the discovered vulnerability. This means in the period between the discovery of the recent security issue and long before it was publicly known, our clients sites were on the safe side, to say the least.
Why trust Catalyst with your managed service:
We are ISO27001 security certified and have a dedicated security team in-house who keep our compliance requirements updated and ensure ongoing internal and external communication flows, so all our stakeholders are aware of any critical information or action that needs to be taken at all times.
We work with partners we can trust and collaborate on various developments in our products and services, including innovative approaches to handling security issues.
Our partnerships and 24/7 Follow the Sun Support model ensure we can deal with any emergencies anytime, wherever our clients are.
Our usage of encryption is standard across the company including at-rest database backups and in-use databases.
Multi-factor authentication plugin comes standard with all our Moodle installations.
Our people, from all departments, undergo comprehensive security training during on-boarding and are required to complete refresher training at regular intervals. We also regularly run internal phishing exercises to keep our staff vigilant to these types of attacks.
"Our client success and their business continuity are always front of mind for our project teams. We understand the potential costs of disruption and recovery and our approach to minimising risk involves ongoing communication, education, collaboration and solid multi-layer security systems."

Ghada El-Zoghbi, Director and Technical Lead, Catalyst IT Australia
More reasons to choose Catalyst for your IT Managed Services: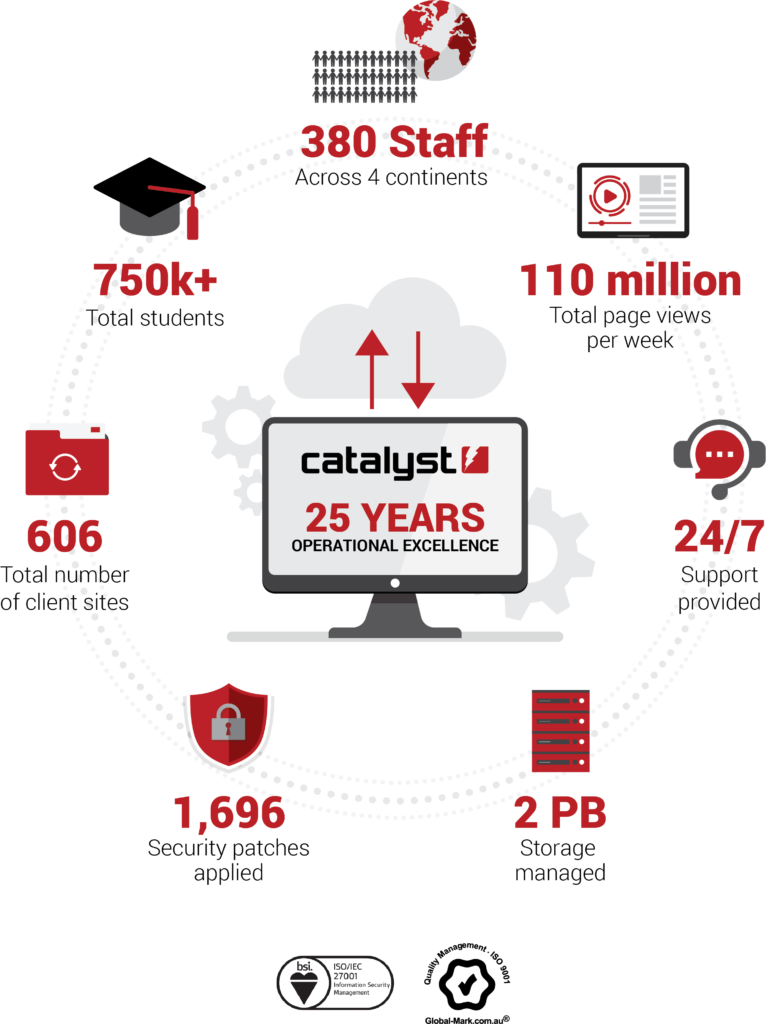 Call +61 1800 595 252