Preparing your Moodle Upgrade Testing process: greatest dangers, common mistakes and tips on how to avoid those.
Our very own Meg James is the person to go to if you don't want to miss a thing when it comes to preparing for your Moodle site upgrade testing process.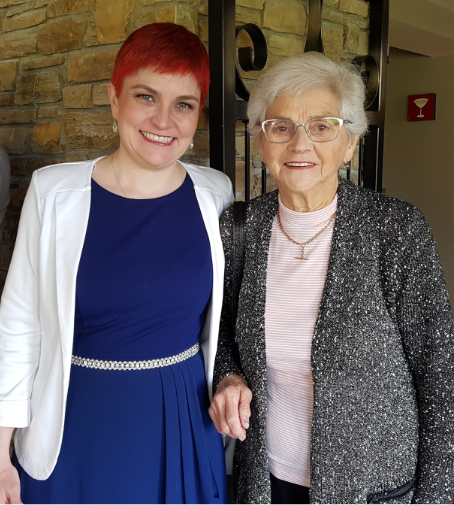 Last month, at the Moodle Moot Global 2022 event in Barcelona, some were lucky to attend Meg's sessions and learn the tricks of the trade on how to make a testing process lead to a smooth upgrade process of a Moodle site.
"At Catalyst, we've upgraded a wide variety of sites," says Meg, "from simple to the heavily customised."
"Regardless of the site size and composition however, the issues we often see are very similar."
An ex high school teacher herself, Meg has 10+ years of experience with Moodle and has worked in a variety of industries including Tertiary, Government, Not-for-profit, Health and Commercial sectors. Meg is pictured (left) with her mum.
The most common issues with the testing process include:
The process is rushed or simply glossed over
Simple things are being missed
No or little consideration is given to specific customisations and integrations
Fatigue, especially in the mid-to-end of the process often contributes to all of the above
Issues are often not discovered until after 'go live'
"Preparing the testing process needs to carefully consider how a Moodle site is used by all parties, including students, teachers, administrators and any other user groups," says Meg.
"Core Moodle will most likely work as expected. However it is the additional code, customisations and integrations that must be carefully tested."
"With any upgrade, consider a detailed plan that includes looking closely at all third party plugins, customised code and integrations."
Planning early is key!
"One of the greatest dangers in the upgrade process is missing that one bug or error when testing prior to release," says Meg.
"So it's important to start planning your testing process when you start planning your upgrade process. A lot can be learned while planning for the upgrade itself. Aligning both planning processes will ensure that all relevant aspects are covered."
"Remember that your testing plan needs to be flexible whilst the upgrade work is being undertaken."
Ask yourself and your team these questions:
How is my site used? (not just what for)
What plugins are there? Are they all being used?
What activities are used?
What activities are not used?
Are there any activities / resources used in unusual ways?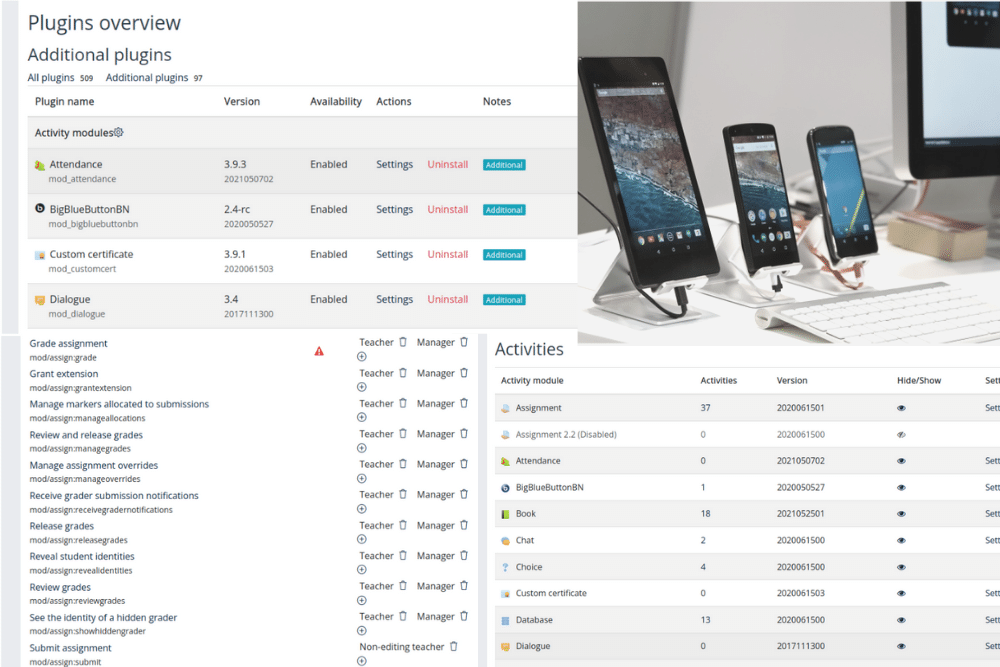 Other key things to remember:
Customisation:
Roles – custom roles and changes to standard roles
Integrations
User Tours
Browser compatibility
Device compatibility
"Make sure a process includes all roles," warns Meg, "with student role being the major focus."
"Consider where each role spends most time and do use proper testing roles, not 'Login as'."
Beware of the new features!
It is vital to be aware of all the new features and functionality. Ensure to review the release notes in full and don't forget to check the permissions.
Review your notes and create a checklist.
Make sure to focus on what you've found and noted more closely especially when it comes to customisations, integrations and the heavily used activities.
Be detailed and develop a checklist – do not under-estimate the power of a good checklist!
Get another opinion.
You will have more chances of succeeding and minimising possible dangers and mistakes if you have more than one person working on your testing and upgrade. When there's so much detail to consider, anyone's brain would go tired and foggy and that's when simple things are missed which becomes very frustrating.
After your testing.
Review your results and make sure your upgrade team are aware of them. What worked, what didn't and what are potential issues for users.
You can then review your upgrade plans.
Do any of them need to change?
Do we need to test any other items prior to 'go-live'?
Do we need to notify users of some specific changes?
In summary: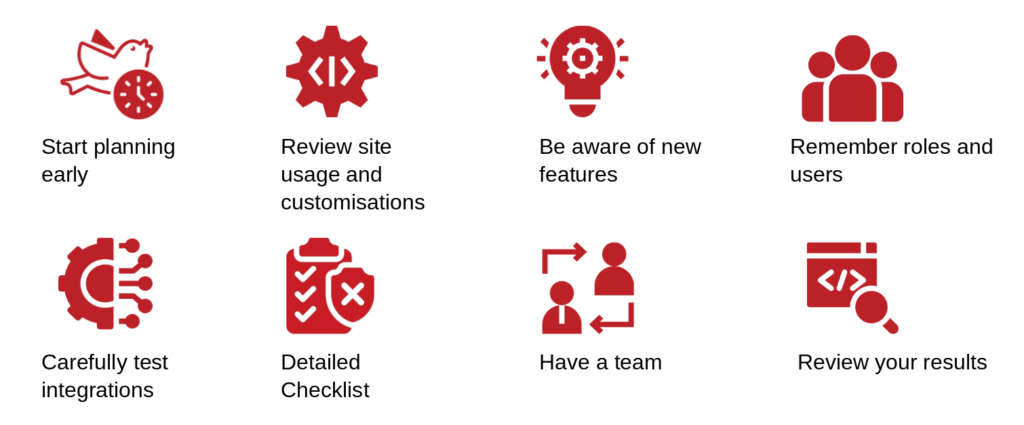 "Ensuring that your upgrade is successful requires a thorough and well thought out testing process that is specifically designed for your organisation and your site."
Thanks to all who attended Meg's session at the Moodle Moot Global last month, it was a perfect opportunity for 800+ Moodlers to come together, collaborate, learn from the best and discuss the future of education.
If you weren't there, stay tuned as we will be sharing some useful content like this based on other presentations from the Catalyst team, of which we had nine in total.
Please let us know
Please let us know via a direct message on LinkedIn if you'd like us to run a virtual session on Meg's magic of preparing for the testing and upgrade process of your Moodle site. If we generate enough expressions of interest we will run a special webinar just for you.
Have any more questions about your upcoming upgrade? Please contact our team for a consultation.