Moodle administrators, how much control do you have over your site? Here are the dashboard views you will find useful.
Moodle administrators, when did you last audit your site and how much control do you actually have over it?
Below, we touch on the questions you should be asking yourself to make better decisions about your Moodle site functionality and security, as well as share some of the dashboard views you will find useful.
Questions to ask about your Moodle site:
In our recent blog about the latest Moodle release, we have touched on some of the questions you should regularly be asking your team about your Moodle site, including:
When was the last time we performed a gap analysis when it comes to our use of Moodle?
What are the features we are always using that work well for us?
What are the features / activities we never use? Should we be using them?
Are there features we could be using better / more of?
What we want to start, stop, change, continue (apply the SSCC model) when it comes to the way we use Moodle and various individual features?
When was the last time we collected feedback from staff on some of the common issues experienced during creating courses, quizes, running reports, etc?
What do we do with existing plugins / features if the new additions / improvements seem like better solutions to our key problems and goals?
The best place to start an audit of your Moodle site to see how and where it can be improved, is your Moodle admin dashboard.
Some of the areas you may want to explore on your admin site include:
Your Moodle Notifications Page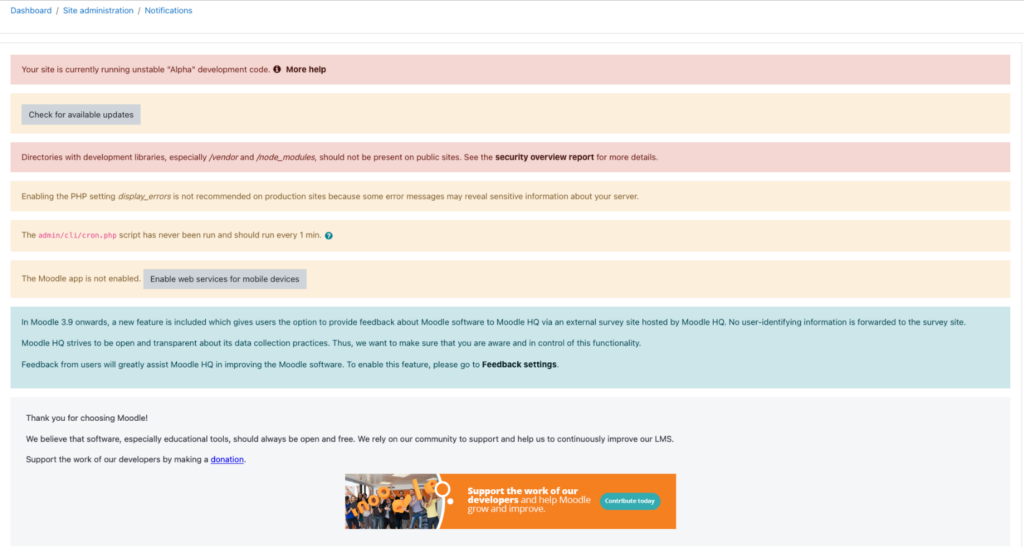 Your Additional Moodle Plugins Page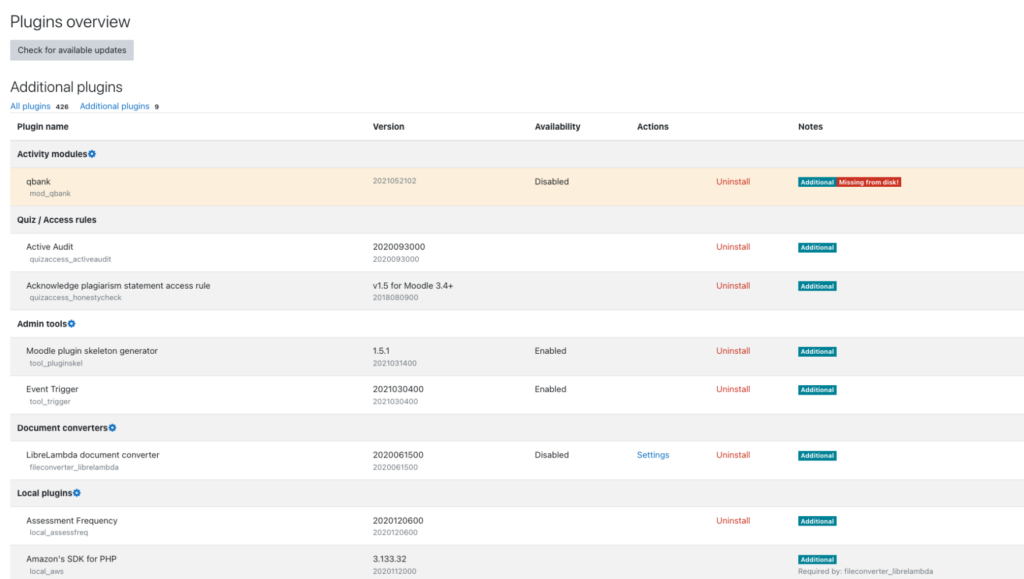 Your Moodle Activities Overview Page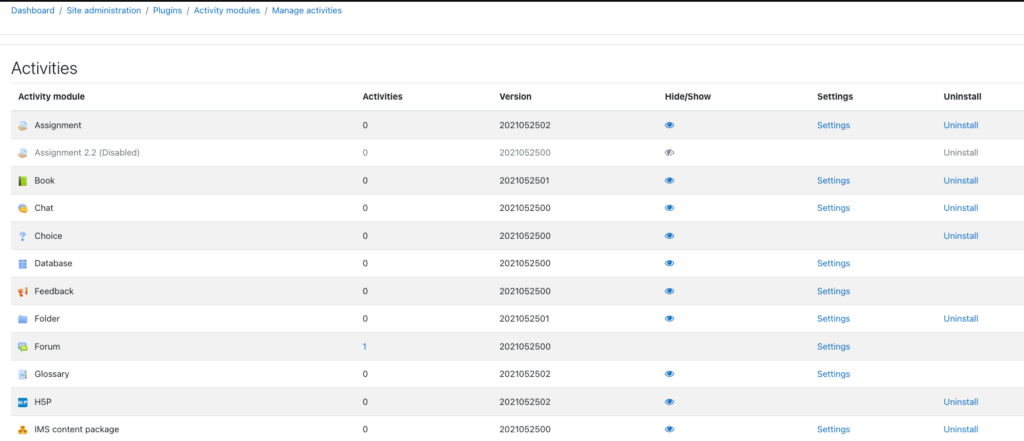 Your Moodle Blocks Overview Page

to name a few.
Site Administrators are in the most powerful position when it comes to reviewing and managing site upgrades, installing plugins, running reports, checking for available integrations and, last but not least, asking the questions about the use (or non use) of specific plugins, activities and other features that your organisation may or may not need in order to optimise the performance of your Moodle LMS.
If you are not using a plugin but it's installed in your LMS, you need to be aware that it may be a security liability if it hasn't been maintained for a while. It could also add to your costs during an Moodle upgrade. As an organisation, you need to be aware of what is installed on your LMS.
We have come across a number of situations when consulting with new clients, where Moodle site administrators had never seen these views, as exemplified above, on their admin site and therefore could not gather or analyse such important information as to how their site is being used.
Why? Because in many cases, Moodle providers do not offer full access to Moodle clients, including site administrators, in fear that accidents may happen and some things can be 'broken' as administrators play with different features and views in the background.
These admin views / pages however, are critical pieces of the puzzle you need to be able to make good, informed decisions which can result in various efficiency and effectiveness improvements for your LMS.
Remember, Moodle features are highly customisable and can integrate with over 20,000 different applications. Your needs however are unique and your organisation's needs are constantly changing. So, keeping an eye on things at all times is critical.
While your e-learning consultant / Moodle provider can help guide you during the initial implementation stages, for the ongoing monitoring of how your organisation uses your site (and all its features), as a site administrator, you are still in the best position to flag anything that seems interesting or questionable, and initiate conversations with your team and/or your consultants to implement changes as required.
Good news is:
Catalyst IT Australia provides their clients with a transparent, 'fully open' access to their Moodle sites.
Yes, accidents happen and sometimes our clients need us to fix some things they've 'broken'. That's no problem at all, as we are always here to help.
The main thing is that our clients and their site administrators are well informed about how their site is being used and can identify room for improvements. More importantly, their users appreciate that too as they benefit from ongoing improvement to their experience.
Want more Moodle and e-learning tips?
Need to speak with an e-learning consultant? Contact our team today.