Higher Education Providers' Current Challenges and Opportunities.
Our research shows that some of the challenges higher education providers are facing today don't just come and go. While some issues may need more attention than others in any given year, overall, the list of things to address only keeps getting longer, as existing challenges and risks remain unsolved and new ones get added. Here, we review some of these and note a few key strategies for higher education providers' long term success.
Let's face it, the greater need for innovation in teaching and learning didn't start with the recent Pandemic. To remain competitive, education providers have had to stay on top of changes in external environments for as long as they have existed. With the technological environment, for example, internet based learning dates back to 1970s, online learning management systems (LMS) to the 1990s (source) and you can find industry expert calls for higher education providers to invest heavily in solid network infrastructures from the last five to ten years.
Of course, events like the Covid-19 pandemic greatly intensified the need for change. Almost overnight, a significant investment in acquiring and mastering the 'right' technologies had become not only important but super urgent. While many took action, education providers still face the following question: "did we invest wisely or did we panic-purchase?" (P. Francis, 2021). Did what we implement solve the new and emerging problems? Or are we creating new ones?
Smart decision making requires good research and input from all key stakeholders, something we didn't really have time for during the times of panic. That of course includes students. In a recent "Student Voice" survey (an Inside Ed and College Pulse collaboration) presented by Kaplan, 36% of respondents said that students should have a significant amount of input into decisions about institutional investments in technology, and 49% said students should have at least some input. Only 7% were unsure and only 8% picked 'no input' as the answer.
In addition to various stakeholder needs, things like operational nuances and resource and technological inefficiencies, that resulted from rapid change, is something many higher education providers are still dealing with.
Be honest!
We agree with Francis – it's important to be honest in reviewing the decisions that had to be made in a rush – "was champagne purchased on a beer budget"? Are all the required automations, integrations, staff training and cloud solutions in place for a longer term and sustainable success strategy? What have we not thought through? And what will it take to fix it?
While many educators and students are embracing learning management systems and enjoying the flexibility of working / learning from home, latest industry research findings confirm that the declining rate of student engagement is one of the biggest challenges higher education providers are now dealing with. Student and staff capabilities related to online learning and teaching is another.
Not having proper support structures and poor design and implementation of online delivery are some of the major contributors to these problems.
"New technology solutions and services are only as strong as a campuses ability to use them."

P. Francis
The below diagram, taken from the Modes of Delivery in Higher Education report by the University of Queensland presents a good summary of risks and impacts that low investment in teaching and learning innovation, as well as IT infrastructure systems, lead to.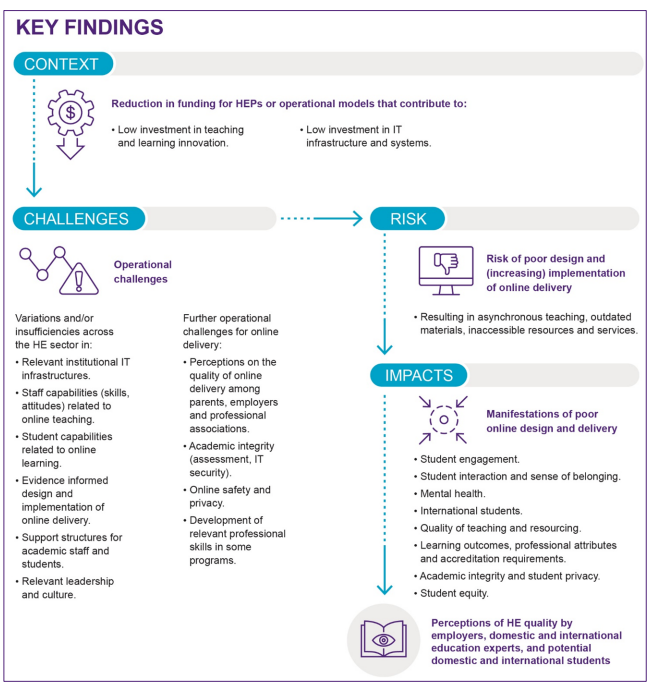 As budget cuts in Australian universities deepen, this is an increasingly worrying trend. But to economise on technologies doesn't seem like a solution either.
Education is a 24/7 business with both faculty members and students expecting connectivity and accessibility to their course materials and collaboration apps when and where they need them.
Availability, accessibility, security and 24/7 IT support are critical for higher education providers to maintain smooth operations and quality of delivery. This in turn will help minimise the negative impacts identified in the study above.
The new, the old and the sum of its parts.
Let's take a step back to 2017 when the EdTech magazine published the list of top 10 IT issues for higher education. These included:
Security
Digital transformation of learning
Data management and governance
Student success and completion
Sustainable staffing
Strategic leadership
Data-informed decision making
Sustainable funding
Higher education affordability, and
Enterprise level IT applications and architectures that achieve agility, scalability and cost effectiveness
Six years on, this still looks like a very relevant checklist when it comes to analysing the educational institutions' innovation efforts and strategies for success.
Today, we see higher ed players are continuing to build on their digital capabilities, offering online courses, looking into block modes of teaching (BMT) and micro-credentialing, and utilising various data to try and offer better, personalised, experiences for their remote and on-campus students.
The constant challenge is keeping up with all that while dealing with further, emerging, unpredictable changes and market demands such as: mastering blended learning where no 'one-fits-all' solution exists, while dealing with the budget cuts and ongoing pressure to comply with professional body requirements.
A very well managed blended learning approach is key, especially if your goal is to increase equity, accessibility and engagement. However, blended learning is something not many, if any, education providers have yet mastered.
Again, the importance of key stakeholder engagement rings true when dealing with such issues but of course it's a resource heavy exercise.
A real opportunity to outperform their rivals exists for those education providers who can do the following:
Master blended learning
Engage effectively with key stakeholders (student, educator, regulatory bodies, consultants)
Honestly assess mistakes (rushed decisions) made during the Pandemic
Accept any weaknesses / room for improvement
Re-allocate resources based on current priorities as supported by quality data
Engage consultants who can solve certain problems and accommodate technical needs more efficiently, leaving education providers more time and resources for things like staff training, stakeholder engagement and compliance issues
Employ technologies that are flexible, highly configurable and cost effective to maintain
These are just some of the basic strategies universities and other higher education providers need to focus on to ensure their long term success; and whether you look at studies from five to ten years ago or the last six months, it is clear that not investing enough in teaching and learning innovation, as well as resilient IT infrastructure and systems, is not something higher education providers can afford to do.
Catalyst IT specialises in open source (OS), enterprise level IT solutions and learning management systems for higher education providers. Over the last 25 years, we have witnessed more and more larger and growing organisations embrace OS technologies due to their resilience and economies of scale when it comes to maintenance and continuous application improvements.
Many of our learning management system advisors have backgrounds in the education sector as well as extensive experience in the EdTech field. So if you are a higher education provider looking to make the most of your LMS and/or cloud based IT systems, enquire with our team today.
ISO/IEC27001 certified, we are a trusted provider for Government, Health, Not-for-profit, Commercial and other sectors that rely on agile, flexible, resilient systems and 24/7 support.
You might also like: Best Moodle Plugins for Student Engagement.