Happy birthday Drupal
To celebrate 20 years of Drupal CMS, we thought it appropriate to mark the milestone anniversary by giving a big shout-out to 10 key things that we think makes Drupal so great. 
For many Drupal users, the benefits of working with the open source content management system (CMS) may be obvious. However, for others there may be questions like "Why should I choose Drupal over WordPress?" or "What makes Drupal different to its competitors?"…. this post is for you.

10 reasons to love Drupal
1. Open source software
Drupal is a community-driven open source project that, as of March 2021, comprises:
• >1.39 million members
• >121,000 active contributors
The most significant benefit of having this community is that, compared to a proprietary one-vendor solution, Drupal is developed and maintained by the whole community. It has an active and dedicated team to find and fix any security issues, together with the help of the broader community to keep the technology safe and secure to ensure continued delivery of reliable digital experiences.
2. Free software
Drupal CMS is free, which means that it has no licence costs; it is accessible to anyone that wants to use it.  That's pretty awesome! 
3. Freedom to choose your IT service provider
Being open source means there is no commitment to one particular proprietary vendor. Depending on your business needs, you can choose to obtain and switch support from any IT Service provider, as you see fit. If you are looking for proven open source, Drupal expertise, a good start point for your search may be looking for a Drupal supporting partner.
4. Multilingual functionality supports a global reach
A truly global business that is supported by a CMS with multilingual functionality means that you can reach a wide audience and provide a great User Experience (UX). The latest version has integrated multilingual capabilities.
Drupal CMS gives you 100 languages to choose from out the box; custom languages can be added without limit. It also provides 4 core modules specifically for language and translation support.  You can build what you need to support your business and its website users.  You can find out more about Drupal Multilingual modules at Drupal.org.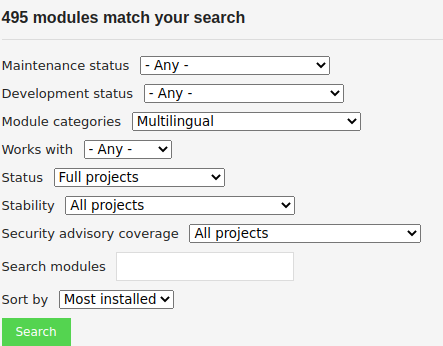 Multilingual modules – feature highlights
Language detection & selection rules (Drupal core, various contrib modules to add detection methods)
Integration with translation service providers, both human and machine (e.g. Translation Management Tool, GTranslate, Lingotek etc.)
Language dropdown selector (e.g. Dropdown Language, Language Switcher Dropdown etc.)
Per-domain language selection (Domain Access)
Language & timezone user settings (Drupal core)
Localised date & time formatting (Drupal core)
5. Responsive web design
Since Drupal 8, the user interface is built with a responsive web design (RWD), which means it is mobile friendly to provide outstanding web accessibility. The content editor is designed so that editing can be easily made to support a variety of devices, windows and screen sizes. Drupal is the perfect tool to create responsive digital experiences. You can find out more about Drupal Mobile modules at Drupal.org.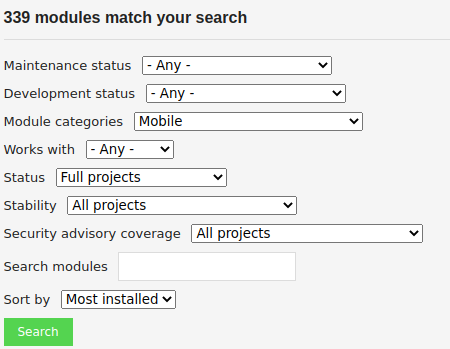 Mobile modules – feature highlights
Responsive images (Drupal core)
Accelerated delivery for mobile (e.g. Blazy, Accelerated Mobile Pages etc.)
Tons of responsive widgets (e.g. Slick Carousel, Superfish, AddToAny, Flex Slider, Juicebox, Magnific etc.)
Server side mobile detection (e.g. Mobile Detect, Mobile Device Detection etc.)
Progressive Web App delivery, including offline capability (e.g. Progressive Web App)
Various responsive pre-built or starter themes, and responsive tools & frameworks
6. Quality content editor experience
Easy to use content editing is a must for today's busy marketers. Drupal has made great developments in this area, with the new admin theme "Claro" available from Drupal 8.8, with the aim of setting a new standard to clean, clear and accessible editor experience. You can find out more about Drupal Content modules at Drupal.org.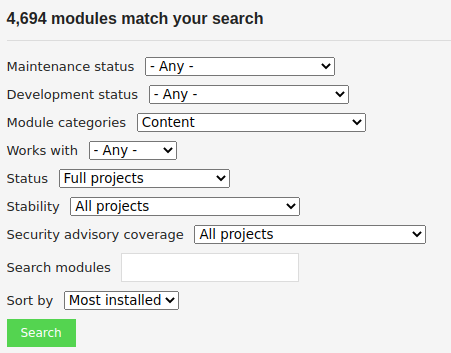 Drupal CMS has a built-in workflow manager so that content editing can be extended with custom workflows to support different use cases.
Content modules – feature highlights
Page building using components and/or layouts (e.g. Paragraphs, Gutenberg, Bootstrap Layouts, Drupal core's Layout Builder etc.)
Customisable and extensible WYSIWYG editors (e.g. Drupal core, Entity Embed, Linkit, CKEditor Panel Button, Editor File upload etc.)
Automated html/text postprocessing (e.g. Drupal core, Token, Entity Embed etc.).
Customisable content entry forms (e.g. Drupal core, Form Group, Inline Entity Form)
Customisable workflows, content staging, version control and moderation (e.g. Drupal core, Drupal core's Workflows and Workspaces, Workbench etc.)
7. Security and User Access & Authentication
One of the best ways to improve information security in your business is to tighten up access. Drupal CMS provides an out-of-the-box interface for user roles and permissions that can be customised to meet your specific business needs.  
Drupal can also be extended to integrate with existing authentication systems, to provide functionality such as single sign-on (SSO) and multi-factor authentication (MFA). You can find out more about Drupal Security modules and User Access & Authentication modules at Drupal.org.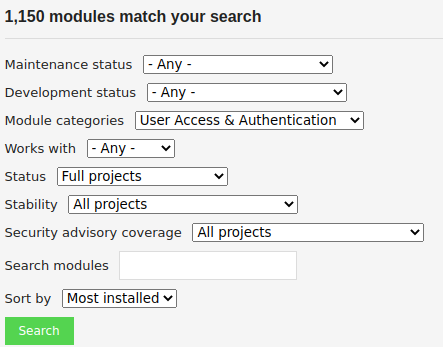 Security & User Access modules – feature highlights
User roles and permissions (Drupal core, Role Delegation, Nodeaccess, Access by Reference, Workbench Access etc.)
Security tightening (e.g. Security Kit, Login Security, Username Enumeration Prevention, Content-Security-Policy, Password Policy etc.)
Advanced authentication and authorisation, SSO, MFA etc. (e.g. TFA, simpleSAMLphp Authentication, LDAP, Simple OAuth, External Authentication etc.)
Spam prevention (e.g. CAPTCHA and related modules, Honeypot, Antibot, SpamSpan etc.)
Encryption (e.g. Encrypt, Key, Real AES etc.)
8. Integration flexibility
A modern digital experience, no longer relies on a single content base that serves all the content. A modern CMS must be capable of integrating and exchanging data with other systems. At the front-end application (the actual interface an end-user is interacting with) needs to be optimised to deliver a seamless UX.
Drupal has a robust and powerful built-in migration API to help to migrate data from other services to Drupal. That means that you can bring content to Drupal from almost anywhere: other websites built with different content management systems, various databases, feeds, older Drupal versions etc. These can then be migrated into standard Drupal content.
From an data exchange perspective, Drupal's "API first" architecture (different website, new window), means that Drupal can interact with other applications to exchange data with them through and serve as a centralised backend content hub that exposes the content to other systems.
You can find out more about Drupal Third-party integration modules at Drupal.org.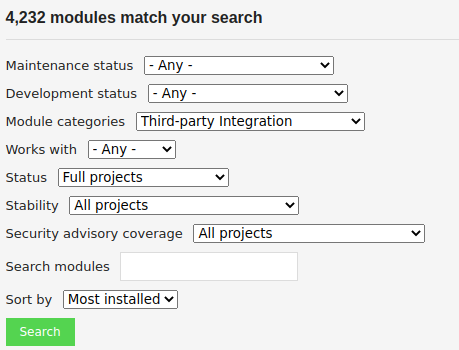 Third-party integration modules – feature highlights
Analytics, SEO and Marketing (e.g. Google Analytics, Mailchimp, Hubspot, Metatag etc.)
Social media embedding and/or API integration (e.g. Twitter API Block, AddToAny, Facebook Page Plugin, Facebook Comments, YouTube Field, Simple Instagram Feed etc.)
Advanced search platform and metadata harvesting integration (e.g. Search API Solr, Elastic Search, Views OAI-PMH etc.)
Custom APIs and web services (e.g. Drupal core's Serialization, JSON:API, RESTful web services, Views etc.)
Performance boosting and Content Delivery Networks (e.g. CDN, Cloudfront Edge Caching, Redis etc.)
9. Design flexibility to support your brand
With over 2,900 free themes, you are equipped to change the look and feel of your Drupal site to make it truly unique to your business's brand and identity. You can find out more about Drupal Content Display modules at Drupal.org.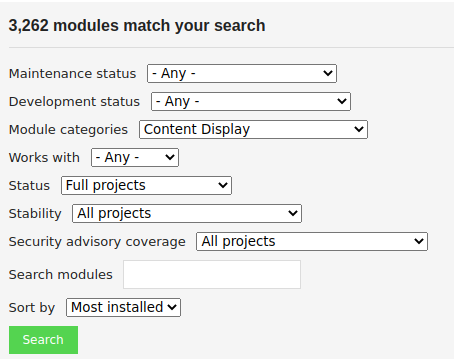 10. Massive functionality
Last but not least is the sheer power of Drupal. With more than 46,800 free modules (plugins) that extend and customise Drupal functionality, you can be safe in the knowledge that as your business grows in size and complexity, you have the tools to deliver the ultimate digital experience.

Catalyst support for Drupal
From our own experience of working with Drupal, it has proven to be ideal for complex, content heavy, high traffic websites where integration is critical; popular with our university and government clients, where high performance and accessibility is a must. Drupal's great standard features support easy content authoring, reliable performance and excellent security. However, its real power is in its flexible architecture: the modular nature of the CMS helps you build versatile, structured content that dynamic web experiences need.

Looking for expert help with your project?
Catalyst is a Drupal Premium Supporting Partner, listed on the Australian Government GovCMS Panel. Get in touch and let's explore how we can help.